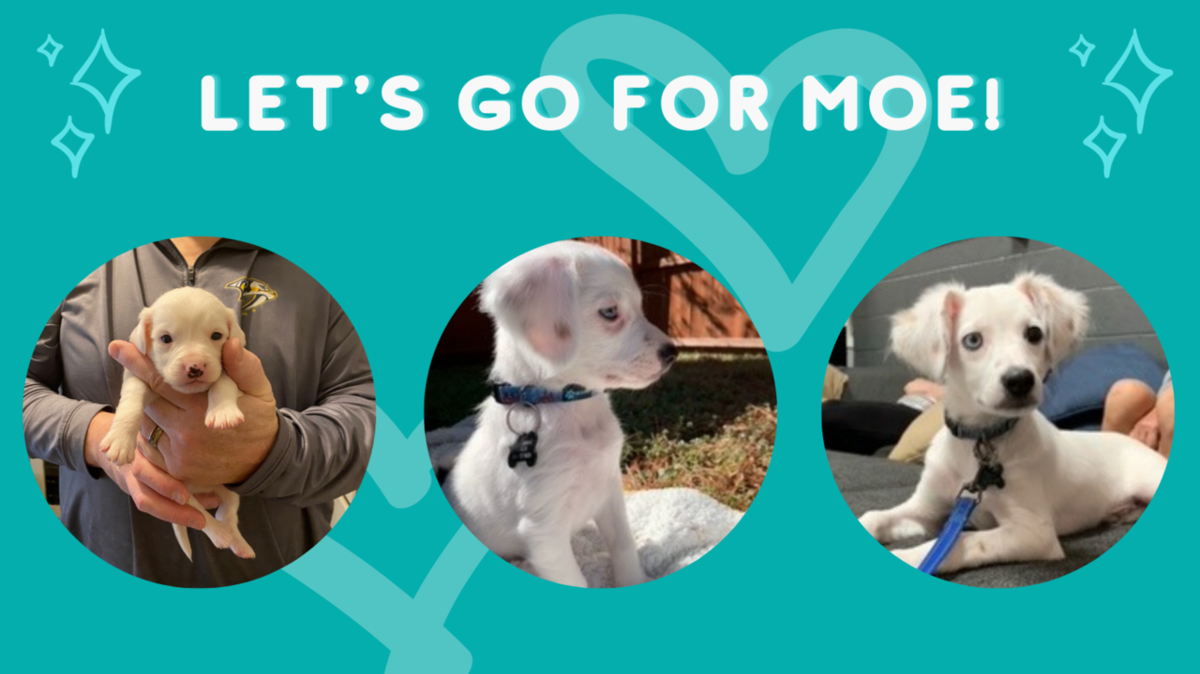 Every year, Agape budgets for "extraordinary medical" expenses, to pay for unexpected medical expenses for pups in foster care. This covers all sorts of things! Accidents, broken limbs, when our furry friends eat something they shouldn't… you name it! Some years are more extraordinary than others, and this year our fund has been depleted sooner than usual. Today, we're inviting you to join us in raising $10,000 for our extraordinary medical fund so that we are prepared for accidents or unusual medical cases for pups in Agape's Foster and Adoption Program. In this instance, some of these funds will cover the cost of care for a very special little puppy:
Meet Moe. Moe came into Agape Animal Rescue's Puppy Program at just three weeks old, with his mother Missy, and his two siblings, Larry and Curly. Shortly after their arrival, it became clear that Moe would need specialized care: we discovered he was not only deaf, but was suffering from a rare congenital heart condition, and was in need of surgery to repair a hernia.
Now 5 months old, Moe is currently asymptomatic and is living with his dedicated foster Mom, Laura, who is dutifully ensuring that he is receiving all of the love and care that he needs with Agape's support.

Moe is in need of a surgical procedure that can prevent the progression and development of his heart condition. This procedure must be performed at the University of Tennessee, Knoxville. This surgery will improve his heart condition from a severe case to a mild one that can be managed with medication.After consulting with multiple trusted veterinarians, it has been decided that this surgery is Moe's best option to live a full, healthy, happy life with his perfect forever family. As a deaf puppy, he will already require a unique and dedicated forever home. This is where you — our Agape family — come in!
Moe deserves the best possible chance at life and will do what we can to make that happen. With your help, we can reach our goal of $10,000 so that we are always able to care for special cases like Moe. Will you make a gift to our extraordinary medical fund today to save Moe and help other dogs like him?