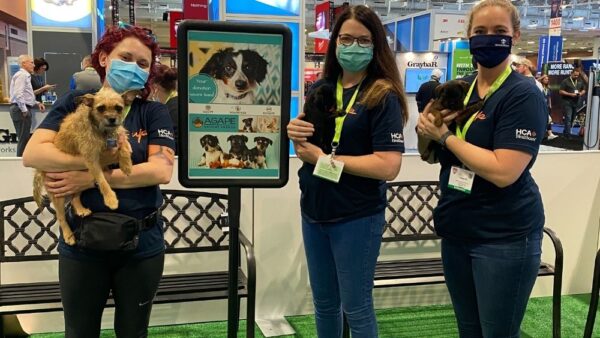 Agape is pleased to partner with local trade show and convention organizers to bring our adorable puppies and dogs to brighten up the days and add to the experience of your attendees.  Our "Paws and Play Program" feature adoptable pups, the opportunity to take a break and play with adoptable dogs and all sorts of useful information about foster, adopting, and dog training tips. Dogs are a known stress reliever and are guaranteed to bring smiles to the faces of your guests!
Want Agape to join you for your next trade show and convention?  Here are some FAQs to get started!:
Q: What kind of dogs will you bring?
A:  Our dogs will be friendly, gentle in nature, small to medium sized, and safe for visiting with the general public.  Each dog is fully vaccinated, and we are happy to have records on file or we can email them ahead of time. We will make every effort to bring vaccinated puppies but can not guarantee the ages of puppies until shortly before each event as puppies tend to get adopted quickly!
Q: What kind of space will you need?
A: A 10×20 or a 20×20 space works best.  The space needs to have some type of barrier around it to keep the puppies enclosed.  A waterproof floor covering is ideal.  Access to an electrical outlet is great to have.  Some type of seating (such as benches) for puppy visits should be provided. Signage near the booth explaining the rules should be displayed.  A sample can be provided.
Q: What kind of donation is appropriate? 
A: We require a minimum donation of $500 per day (4 hours total each day) to participate in these types of events in order to adequately cover the cost of staff time.  A 50% deposit is required to hold the date.  We have participated in several different trade shows over the years and the average total donation has been $2,500. This includes a guaranteed donation and the option for people registering for the conference to make an additional gift to get a "Puppy Play Yard" ticket.  Agape also has the option to collect donations at our information table.
Q: How many volunteers/staff members will you bring?
A: Typically 6-10 volunteers per day – whatever is appropriate for the number of participants at your event. Volunteers should have access to free parking.
Q: Is our donation tax deductible?
A: Yes!  Agape is a registered 501(c)3 charity and your donation is 100% tax deductible.