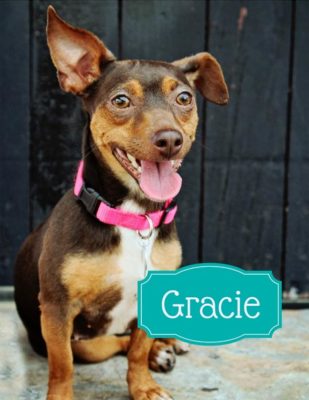 In 2012, a miniature pinscher named Gracie was removed from an abusive hoarding situation in Wingo, Kentucky. Once she was cleared by the vet, Gracie was welcomed to Agape and settled in to her loving new foster home. After staying with her foster family for a time, it was discovered that she suffers from chronic incontinence, which means that she will never be fully potty trained and required monthly medication. Because of her condition, Gracie must be fed a very expensive, high quality food and takes daily anxiety pills. She also has severe reactions to being put under sedation, to the point where it can kill her. This makes it very difficult to treat her for anything that requires anesthesia. These medical conditions make it very difficult and expensive to care for Gracie, and in many programs would have been considered unadoptable. Her foster mom, Freddie, had the perfect level of patience, love, and lifestyle for her sweet self, however, on a fixed income could not adopt her. We were able to find a sponsor to help with Gracie's medical needs and this allowed her to stay with Freddie for the rest of her life, and thus, the idea for the Forever Family Program was born.
We believe that every dog, like Gracie, deserves a happily ever after. This program provides geriatric dogs and dogs with special needs with a stable, long-term foster home, or a "forever family". We have found that after being abandoned, many dogs simply cannot make another move or enter a new home due to emotional or physical ailments, but thanks to the Forever Foster Program, they are guaranteed the highest quality of life, for the rest of their life.
Agape's foster network consists of passionate and dedicated animal lovers who have an intense desire to help those who cannot help themselves. These foster parents are highly trained and are skilled at identifying medical or behavioral issues that may present after the dog is brought into the foster care system. While most of the time these issues are minor and can be fixed, there are time when a dog exhibits what some would consider to be "unadoptable" traits, such as old age. But that is where the Forever Family Program steps in! We understand that even though a foster family may be the perfect match for a special dog, it is a heavy financial burden to care for a dog long-term. That is why the Agape Forever Family Program covers all the medical expenses for the animals, as well as providing basic pet supplies, like food, bedding, and crates. The dogs who are accepted into this program would be euthanized in a traditional shelter. Therefore, this program is also directly responsible for lowering the euthanasia rates in Middle Tennessee, which is always something to get excited about.
Not only does the program benefit to elderly dogs in need, it's also a huge help to the animal's owners as well. Take Susan, for instance. Here is what she had to say about adopting Barney, a dog in the Forever Foster Program. "Having Barney as a forever foster has been a blessing for me.  When I first got Barney, I did not know that he had so many medical problems.  He had numerous seizures ….. as many as 3 times per day.  After several months or so, his medical bills have increased considerably and, of course, I had fallen in love with him.  When I was offered to be a forever foster to Barney, I was so happy.  Being quite elderly and a widow, Barney had become an important part of my life!"
If you are interested in learning more about Agape or how to become a foster parent, please contact us today! Also please consider a donation  in order to help support the Forever Family Program and all the dogs that cannot help themselves.