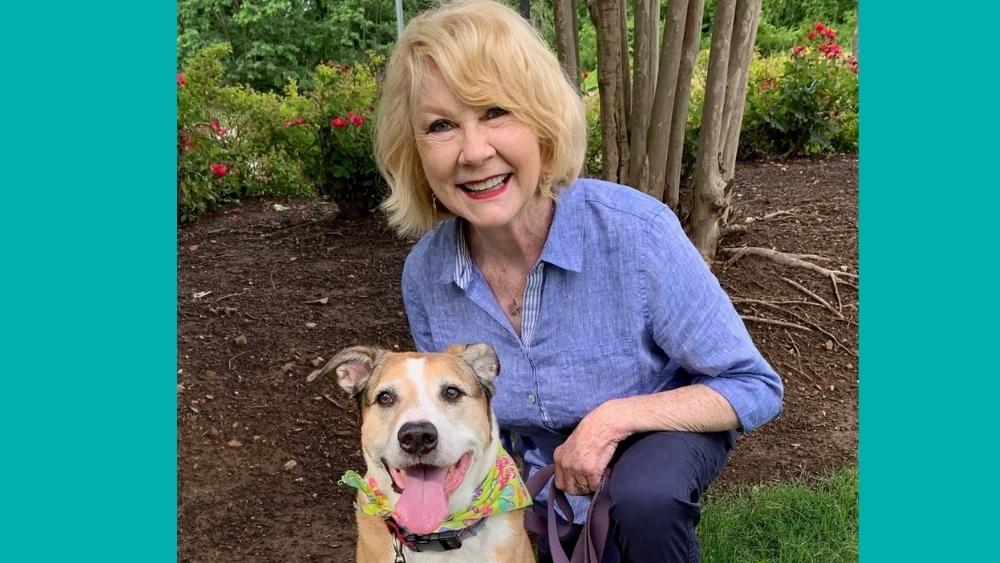 Chloe became Dianne Glaus's Agape dog twelve years ago, but this magical love story only happened because of Dianne's perseverance and her instant connection to a lonely, sad dog in a local animal shelter who was gone when she went back to adopt.  In December 2010, Dianne found a dog named "Cleo" online at a local shelter.  She'd previously had a dog by that name, but this Cleo's sad face broke her heart. Dianne discovered the dog was left by her family, "imminently" pregnant at just one year old, and every time Cleo went outside with volunteers, she looked off in the distance, as if waiting for her people to come back.  Dianne knew immediately this dog was meant for her family, but wanted her new husband and stepson to meet Cleo first.  However, Cleo was not there when they returned for the meeting.  Dianne was devastated, and worried about what might have happened.  A sympathetic shelter worker let her know Agape Animal Rescue had pulled the dog into our foster program because Cleo's time there was "almost up."
"I was flooded with relief and looked up Agape right away to make contact," Dianne shares.  "My future dog had already been placed with a sweet foster family, and she'd been renamed Chloe.  After completing the application and visiting with Agape, then with Chloe, we knew she was the dog for us! She was sweet and playful, but timid and a bit anxious. I wanted to make sure she could have a great life and not be scared again. The day she came to live with us, our first walk around her new property was across the fields through the snow.  Her keen nose was working the whole time, and she loved it!"
Over the years, Chloe has continued to LOVE the outdoors, and especially in her youth, she was a passionate hunter, chasing squirrels and rabbits, and finding moles.  Even now, with many more years on her resume, she still has her keen nose and runs after any small moving creature that crosses her radar. She's always loved water, and has enjoyed getting in their creek to cool her tummy on hot days, as well as the doggie pool at doggie daycare. "Playing with sticks is her joy," says Dianne. "But she never bought into the bringing it back part.  And when she was younger, some of those sticks were more like tree branches!"
Throughout Chloe's life, Dianne has patiently helped her girl deal with some anxiety issues like fear of thunderstorms, fireworks and men in caps. "She's taught me about empathy and compassion, and Chloe has given me a much better perspective about how trauma affects life," Dianne says.
"Chloe has brought so much love and joy, first to the family (my husband, his son and me) and the past four years just to me, as I adjusted to being a widow and empty-nester. She warms my heart because she so clearly finds joy in life.  Her face is perfect happiness when she rolls in the grass or when she lounges outside and stares up at the stars. I tell her often that she is the world's best dog, and both she and I fully believe it."
"I've decided that Chloe needs to spend her golden years as an 'only dog.'  She seems very content to have my undivided attention now," Diane shares. "I am forever grateful to Agape Animal Rescue, who saved her from likely doom at the shelter, and to the wonderful foster family who cared for her until she became ours!"
Dianne and Chloe have an inseparable bond built on love and trust.  Yet the beginning of their story is about the perseverance of an adopter who met her forever dog, discovered her gone and set out to make sure she didn't "lose" her again.  What an amazing adoption!
Congratulations to our June Spotlight honorees, Chloe and Dianne Glaus!