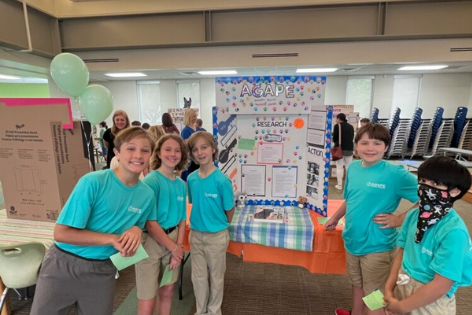 Julia Green Elementary School Kids Help The Dogs
Sweet things can happen when a group of 4th graders get together to better their community, including lemonade. These 4th graders from Julia Green Elementary (JGE) decided to work together, to make a difference and the outcome was amazing. 
Julia Green Elementary School is an International Baccalaureate (IB) World School which teaches students that they are part of a larger world and they are encouraged to reach out and help their neighbor…or the furry friend next door. The culminating event of this program at JGE is the 4th grade exhibition. The students research organizations in the community and develop action plans to help these organizations.  All 4th graders set up their presentation tables in the school auditorium and shared their work with other students, teachers and families/friends this week.  
Melissa Kirkby's son's group chose to support the dogs! They researched Agape's programs, and prepared a presentation to teach people all about how we are saving lives. Kirkby said, "Their action plan was to raise money through a lemonade stand and awareness by handing out bookmarks with your website and ways to donate." They actually ran out of bookmarks, because so many people bought lemonade. Can you believe that?!
The students raised $250 while educating many students and parents about how they can get involved in supporting the animals in the Middle Tennessee area. We are so thankful for Melissa and the brilliant kids of Julia Green Elementary School for their dedication and handwork to make a difference in the lives of dogs!