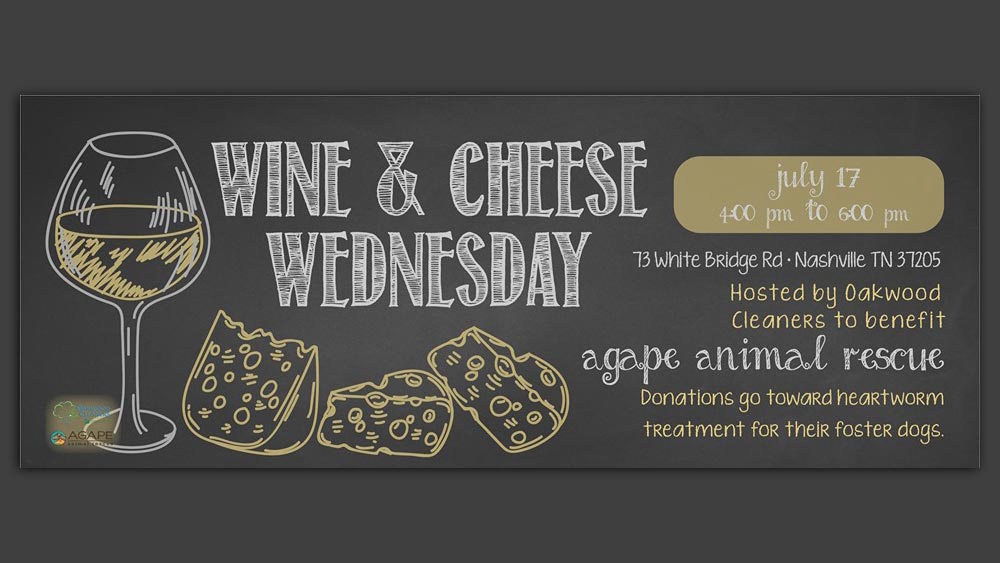 Oakwood Cleaners Wine & Cheese Wednesday
The folks at Oakwood The Greener Cleaners are just as passionate about helping our pets as they are about getting out the stains they make! That's why they're hosting a Wine and Cheese Wednesday on July 17th to benefit Agape Animal Rescue!
"We LOVE helping Agape's efforts to make sure abandoned puppies and dogs are fostered, medically supported for any illness large or small, and placed in a forever home," says Oakwood Cleaners owner Rhonda Wernick. "Please bring your donations and join us for a glass of wine and a snack, and let's help Agape help a furry friend."
Stop by Oakwood Cleaners' Nashville location at 73 White Bridge Road between 4 and 6 PM to help one of Agape's Ambassadors raise funds and bring awareness to the great work Agape continues to do for dogs in need. Oakwood Cleaners will be generously matching any donations up to $600 for the medical care of Agape's special needs foster pets.
Two of Agape's best boys are bravely battling heartworms, and the funds raised at this event will go directly to their treatments.
Orion is a 4-year old yellow lab that was surrendered to Agape after he was found wandering around a farm. He was filthy, malnourished, and covered in fleas and ticks. The good news is that his wonderful foster parents were able to spruce him up, and he's now the most dapper dog you'll ever see! The bad news is that Orion was diagnosed with heartworms, so he's got a long road—one that hopefully leads to a forever home–ahead of him.
Like his namesake, Rudy Ruettiger is a true underdog. He came to Agape after he was found lost on the streets having clearly been on his own for quite some time. He's shy and nervous now, but at just a year and a half old, he's still an underclassman. With a little time and the right teammates, his foster mom is sure he'll blossom into an All-American. But first he'll have to tackle heartworms, and you can help him by swinging by Oakwood Cleaners for Wine and Cheese Wednesday!
More than one million pets in the United States have heartworms. According to the American Heartworm Society, Tennessee is the fifth worst state in the country in terms of the number of animals infected with heartworms. Heartworm Disease can be fatal if not detected and treated. The cost of treating a dog infected with heartworms can easily exceed $1,000. That's why this event is so important to pets like Orion and Rudy.
"We can't wait to help this year with Wine and Cheese Wednesday and a guaranteed donation match of $600!" Rhonda Wernick says. Oakwood "The Greener" Cleaners, oakwoodcleaners.com, wants you to enjoy the best customer service in town, and they want you to help Agape fight heartworms while you do.
This Wine and Cheese Wednesday is sure to be a blast, so come down to Oakwood Cleaners and help Agape clean up!
Oakwood Cleaners
73 White Bridge Road
Nashville, TN 37205
oakwoodcleaners.com