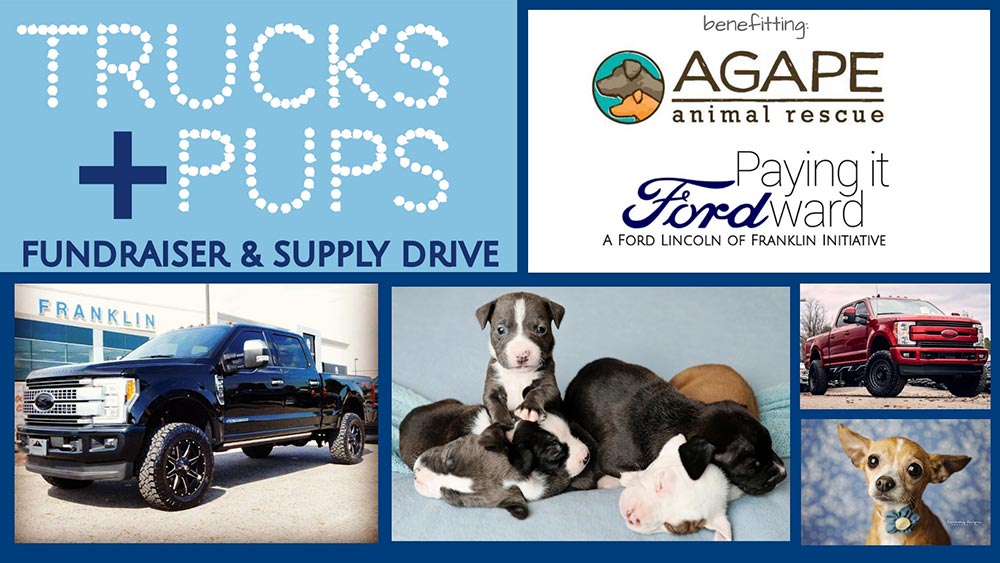 In honor of March being Truck Month, Ford Lincoln of Franklin is 'Paying it Ford-ward' committing to raise money through customer donations all while hosting a supply drive for Agape Animal Rescue! What could possibly be better than Trucks + Pups?!
During the entire month of March you can drop off both monetary and/or supply donations at Ford Lincoln of Franklin and help fill the Ford!" Carmine Grassi, Owner, says, "We are a bit obsessed here at Ford Lincoln of Franklin, and we know many of our customers share our obsession. So we decided this March, in honor of Truck Month, that we would celebrate man's favorite truck by helping man's best friend. After seeing the impact Agape Animal Rescue has had on our community and its four-legged friends, we could not help but get involved.
This month long supply drive will conclude with a celebration party held at the dealership on March 30th from 11:00 a.m. to 4:00 p.m! There will be vendors, a kids' corner with games and crafts, grilled hamburgers and hot dogs, and lots of adoptable pups to provide you with puppy kisses in return for a few belly rubs! Giveaways include Ford & Lincoln Merchandise, WeatherTech Pet Barrier, Ford roadside assistance kits, and window tinting will be given out to lucky attendees throughout the day!
As a bonus, Agape adoptables will be walking around the dealership ready to meet you on March 9thand 16thfrom 10 – 1pm.
"We applaud Agape's commitment to finding forever homes for abandoned and displaced dogs, while educating the public on responsible pet ownership," says Grassi that in addition to collecting supplies, Ford Lincoln of Franklin is committed to raising at least $1,000 to help offset some of the pups veterinary expenses!
"Pay It Ford-ward" by stopping by and adding a supply to the big truck, drop in during one of the mentioned meet and greet days with an adoptable dog, or join us on the 30thfor the end of month blow out pup party!!
Learn more about Ford Lincoln of Franklin by visiting their website, www.fordlincolnoffranklin.com