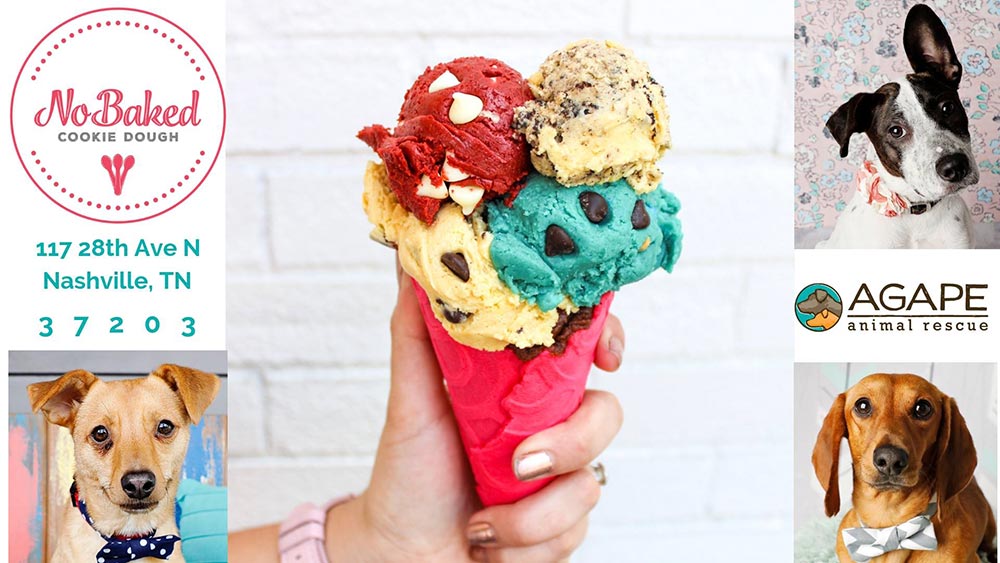 A NoBaked Cookie Dough Doggie Day
A paw-fectly sweet recipe for FUN –A NoBaked Cookie Dough Doggie Day featuring the dogs of Agape Animal Rescue! Make plans to connect over these two sweet treats Saturday, March 30th from 12PM to 4PM on the shop's patio located at 117 28th  Ave. North Nashville 37203.
NoBaked Cookie Dough has been providing sweet treats without the risk of any foodborne illness since its inception in early 2017 offering over ten different delicious flavors with toppings, cones, and ice cream that will make all your cookie dough dreams come true!
NoBaked Cookie Dough is helping to make the dreams of Agape's adorable fosters come true by donating 10% of the sales from this Cookie Dough Doggie Day to help Agape Animal Rescue continue its mission of saving the lives of abandoned, neglected and displaced dogs. "I have two pups that I love more than anything! I hate to think about all the adoptable dogs out there still needing someone to love them the way I love mine! Any time I can help, I'm more than happy too!," states Megan (Beaven) Feeman, Founder and CEO.
Add some sprinkles to your Saturday and gather on the NoBaked patio for an afternoon of saving lives! Well, I don't mind if I dough!
Location:
NoBaked Cookie Dough
117 28thAve N
Nashville, TN 37203