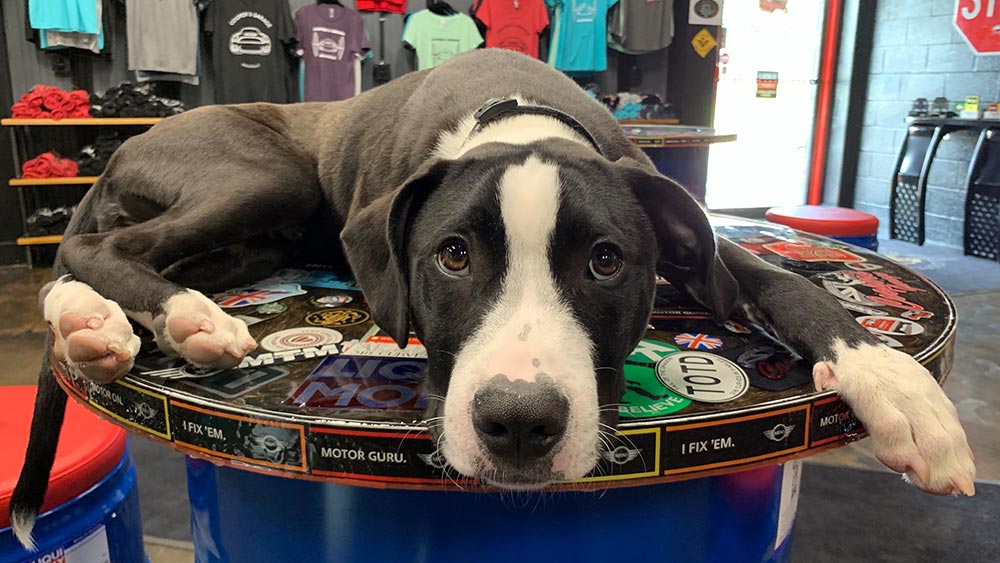 Hershel: Nashville Puppy Spreads Love and Joy of Rescue in His Community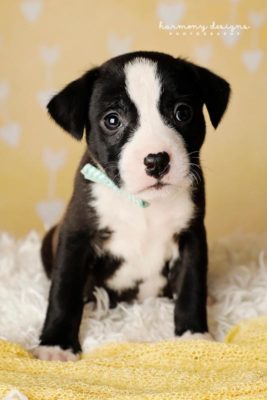 Hershel came into the world Tyrion Lannister, one of Agape Animal Rescue's ten Game of Thrones puppies. Born in Agape's foster care program to mama Dany (Daenerys Targaryen), a stray rescued from a Nashville shelter skinny and so pregnant her babies were due any day, Tyrion was the smallest in his litter, yet he had something truly special that charmed many who met him.
But not everyone noticed at first! He was a tad bit shy, and sleepy, and a little quieter than most of his outgoing siblings. So when potential families met his brothers and sisters, little Tyrion, now Hershel, was overlooked … again and again.
His charm and personality did not go unnoticed by Katie and John Monk of Spring Hill, Tennessee, though! "Initially, we were drawn to his pretty markings as he was snoozing in the pile of puppies," says Hershel's adopter Katie. "But then once he was awake, we could see he had major personality and character, and was seriously unique!" The more time the Monks and their adult son Dawson spent with this tiny guy, the more he melted their hearts. They knew he was meant to be part of their family.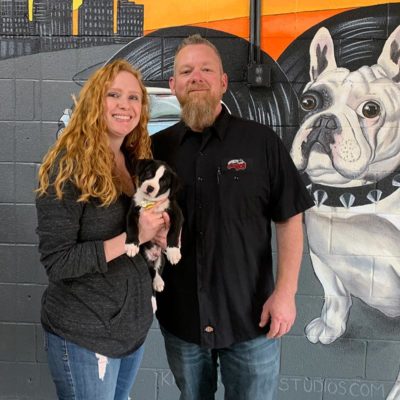 Hershel left behind nine siblings but gained an incredible new life filled with love, adventure, and a multitude of friends with the Monks. He and doggie brother, French bulldog Gus, became instant pals. Hershel immediately began joining Katie, John and Gus each day at their trendy Mini-Cooper auto shop in the heart of Nashville, Cooper's Garage. There, where he is surrounded by dog-loving employees and customers, a beautiful mural displays the deep love the Monks have for their dogs, the art honoring not only Gus, but also his former companion, and the shop's namesake, Cooper. In a few more months Hershel will be added to the mural, "when he is full grown," says John.
Now six months old, Hershel has become a very popular member of the Monk's auto shop, where his sweet nature and gentle personality have continued to blossom, and impress those he meets. "He is the source of many smiles around here!" says Katie. "From the day we adopted him,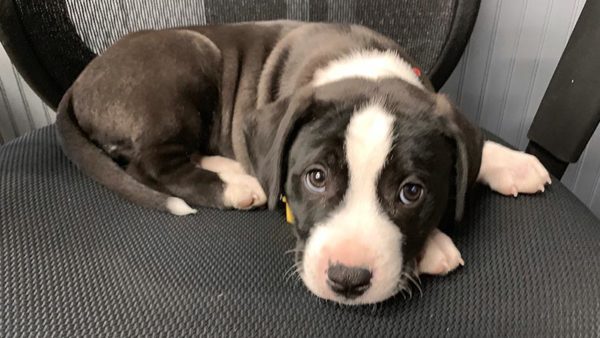 he's been on our social media and has captured the hearts of many. They've loved seeing Hersh grow up!" The Monks say customers come by sometimes just to see Hershel and also ask when scheduling an appointment if Hershel will be there to spend time with him. If for some reason he isn't waiting by the door,the first thing they ask is, "Where is Hershel?" A lot of customers want their pictures taken with him, too.
His pet parents are committed to this boy's enrichment and training, having just finished Hershel's first level basic obe-dience class and now beginning his second level class with Canine Good Citizen certification. Ultimately, they have a goal of certifying Hershel as a therapy dog (he could give a hug in case someone is stressed over the cost of a new engine, jokes Katie).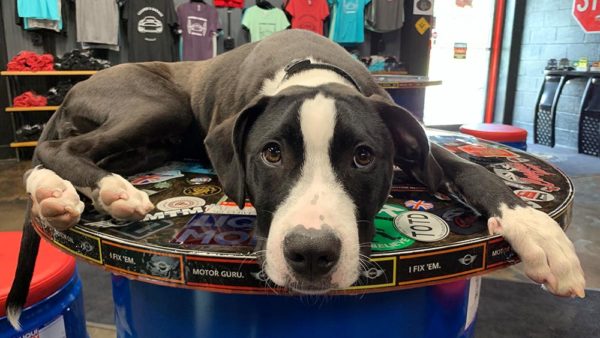 Hershel is already making a difference in the lives he touches, and he touches many. "Seeing how much joy he brings to our customers, vendors, delivery people, and more, makes our days that much better running a small business. His antics keep us all entertained!" says proud mom Katie. "We feel like he has a whole community of people who have contributed to his socialization and upbringing thus far and they love watching him grow up as much as we do. Needless to say, we feel very, very lucky."
Since adopting Hershel, many people have asked the Monks about adoption and rescue, and where they can find a great dog like him. "We point them to Agape Animal Rescue, or many of the other rescues and shelters in the middle Tennessee area so they can rescue a new best friend, too." The Monks say they realize many people are unaware how many awesome dogs are waiting for a forever home, and have been honored to help educate them about the rewards of adopting a rescue dog.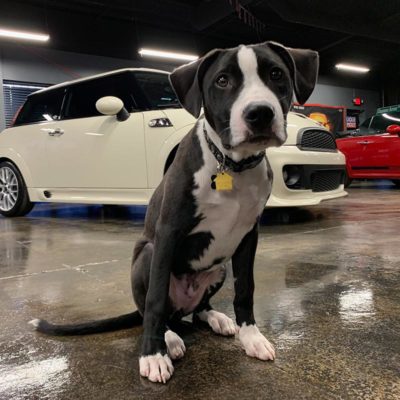 The updates have poured in from the Monks since day one about Hershel, expressing how incredible he is, and how much they love him. "We're so lucky!" " He's the BEST," "He's so smart!" That "it" factor so many people noticed when he was just a tiny puppy has manifested into this magical dog with a huge heart everyone loves. He is growing up to be the endearing, special boy he was meant to be … a true ambassador for not only his breed, but for all rescue dogs.
Hershel, the once tiny, overlooked puppy, is truly destined for great things in his life.
His story is a testament for the joy that can hap pen when pregnant mothers and their litters are saved from shelters.