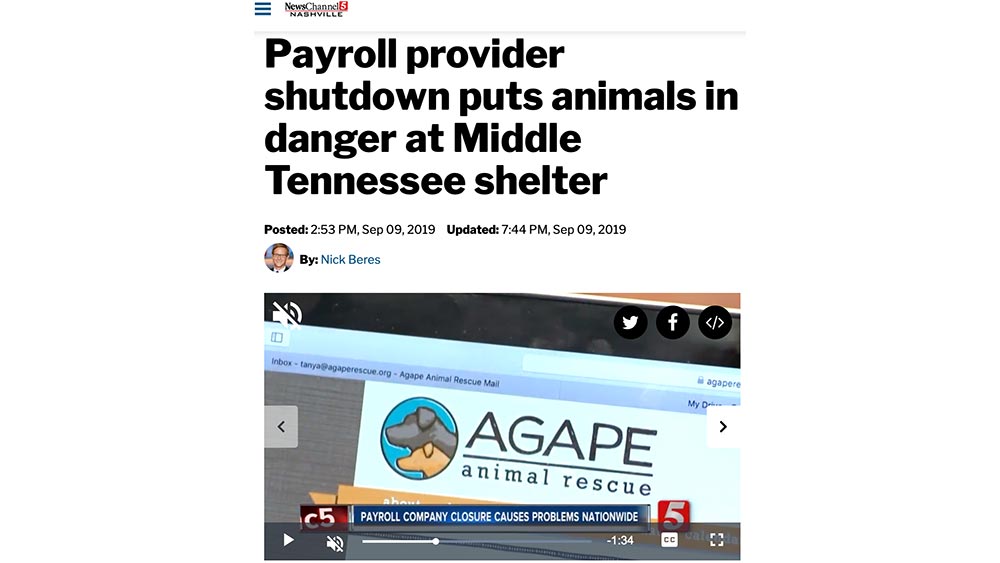 Agape Animal Rescue Organization and Employees Victim of Theft: UPDATES
As many of you have heard by now, on 9-5-19 Agape employees woke up to unauthorized ACH withdrawals by Cachet Bank (a MyPayrollHR affiliate) from their bank accounts. The debits totaled more than $1 million dollars as they stole monies that didn't even exist in the accounts. The direct damage to Agape is still being assessed as the payroll company has been accepting payments for payroll taxes but not paying all of them on our behalf. We are estimating the damages to Agape to be $10,000 to $15,000 at this time.
The good news: While we temporarily slow down operations to get through this situation, we are still saving lives! No treatments were halted as the high-quality care we provide for our dogs is still a priority.
We appreciate board member Kimberly Smith jumping in to action and creating a gofundme page to support the organization through this time. Secure donations are also being accepted on our website and via mail at P.O. Box 292766, Nashville, TN 37229.
We know that federal agencies are investigating this situation and we are all eagerly waiting for a statement and some resolution to this situation. In the meantime, below you will find multiple news articles describing the situation.