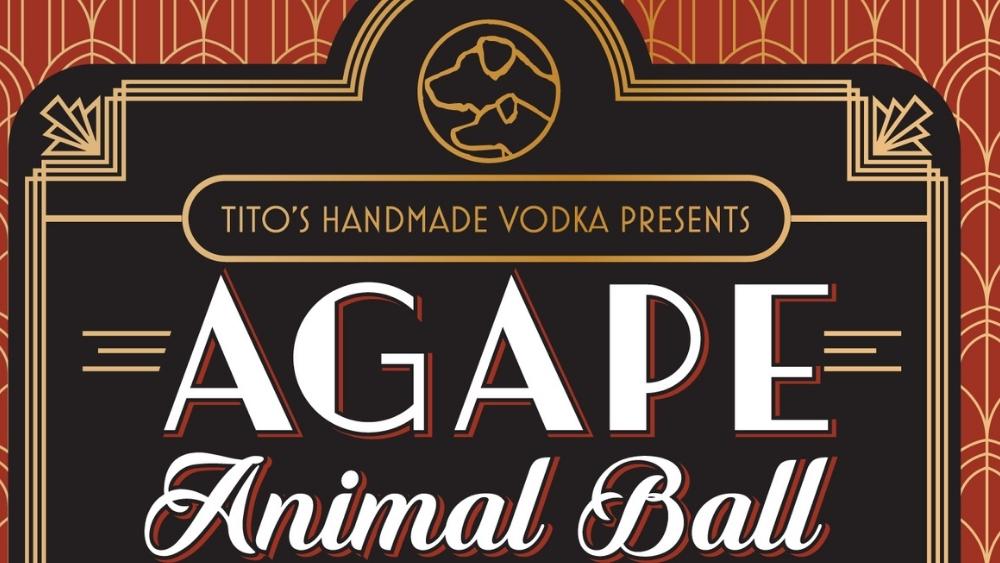 Agape Animal Ball Presented By: Tito's Handmade Vodka
After two long years, Agape's biggest event of the year is back in person, and will surely be a night to remember.
Vodka for dog people. Does this sound familiar? It should. You've been sipping said vodka at Agape Animal Ball's largest fundraisers for years, and we are honored to announce Tito's Handmade Vodka will be joining us as the Presenting Sponsor for our annual masquerade event, Agape Animal Ball, on July 16, 2022, from 6PM-11PM at the beautiful Marathon Music Works. 
The ever-popular vodka speaks for itself. It's the company's passion for helping animals that sets it apart from the rest. Founder Tito Beveridge built the fast-growing micro-distillery with his dog Jo by his side. Twenty+ years later, he is surrounded by a like-minded team known for taking in stray dogs and cats around Tito's grounds and helping them find homes—or adopting them themselves. You know a company loves dogs when employees are encouraged to bring their own canine pals to the work and eveb has a doggy play area onsite! Tito's is amazing…and this is just the tip of the iceberg.
In efforts to combat pet overpopulation and homelessness, Tito's launched the Vodka For Dog People initiative in partnership with Emancipet, an Austin-based non-profit organization, to make spay/neuter services and veterinary care affordable and accessible to all pet owners in cities across Texas. The vodka company also works with animal rescue partners like Agape Animal Rescue in the regions they serve, which, let's be real, is everywhere!
"We love their vodka. We love that they love dogs. Most of all, we love that thousands of dogs who have been saved in Nashville because of Tito's Handmade Vodka's support," said Agape founder Tanya Willis.
"We hope you'll join us for the best cocktails and a bigger and better Agape Animal Ball on July 16th!"