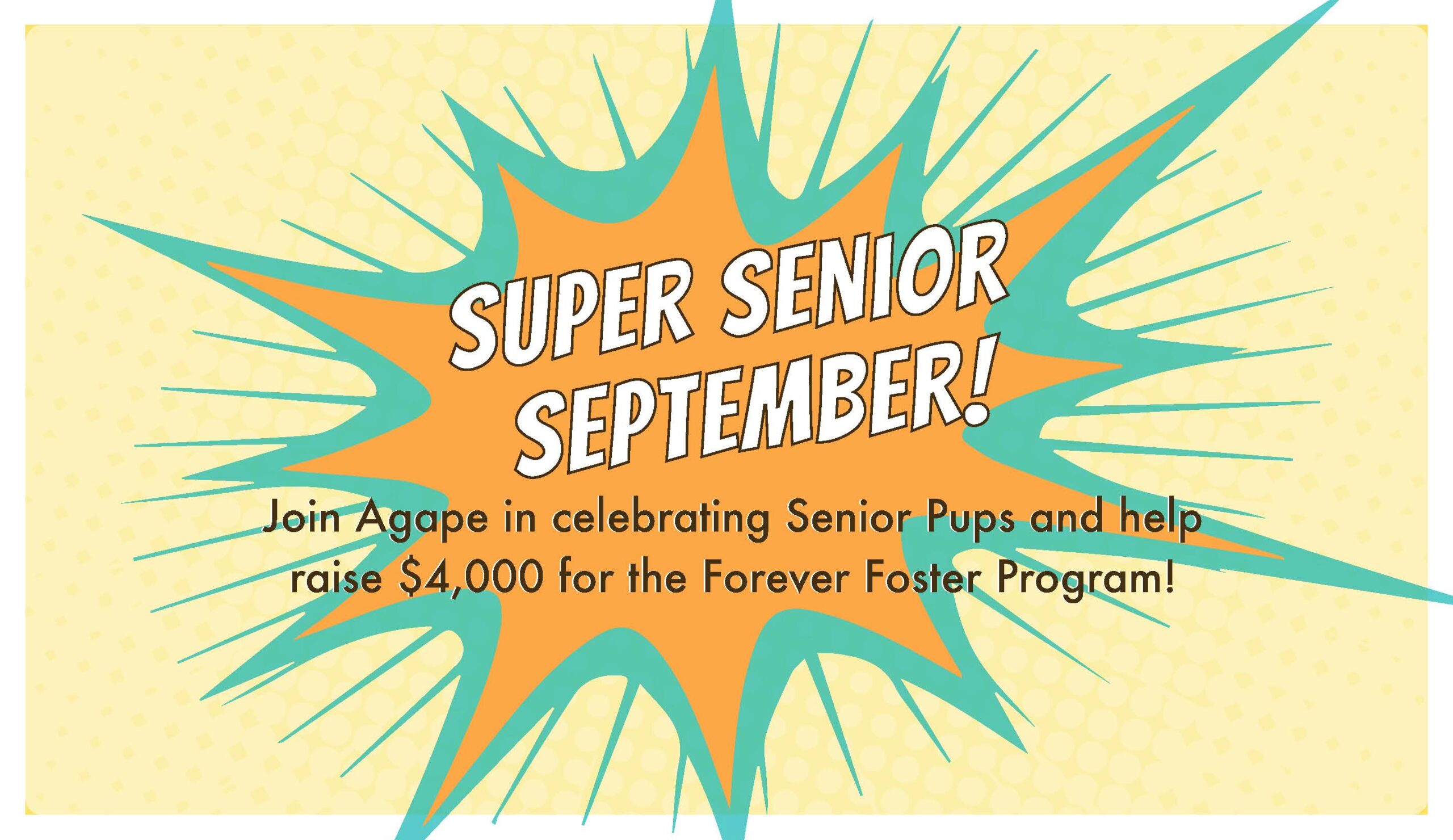 Super Senior September- Cookout Sign Up!
This September, Support Agape's Super Senior Pups!
Senior dogs have a special place in our hearts, and that's why we're dedicating the entire month of September to highlighting and supporting our older furry friends. 
Agape's dedicated Forever Foster Program ensures that senior dogs or pups with higher medical needs can still find their perfect forever home without their age or medical condition becoming a barrier to adoption. This program provides geriatric dogs and dogs with special needs with a stable, long-term foster home, or a "forever family". We have found that after being abandoned, many dogs simply cannot make another move or enter a new home due to emotional or physical ailments, but thanks to the Forever Foster Program, they are guaranteed the highest quality of life, for the rest of their life.
Agape's foster network consists of passionate and dedicated animal lovers who have an intense desire to help those who cannot help themselves. These foster parents are highly trained and are skilled at identifying medical or behavioral issues that may present after the dog is brought into the foster care system. While most of the time these issues are minor and can be fixed, there are time when a dog exhibits what some would consider to be "unadoptable" traits, such as old age. But that is where the Forever Family Program steps in! We understand that even though a foster family may be the perfect match for a special dog, it is a heavy financial burden to care for a dog long-term. That is why the Agape Forever Family Program covers all the medical expenses for the animals, as well as providing basic pet supplies, like food, bedding, and crates. The dogs who are accepted into this program would be euthanized in a traditional shelter. Therefore, this program is also directly responsible for lowering the euthanasia rates in Middle Tennessee, which is always something to get excited about.
Being a "Forever Foster" is truly an act of unconditional love and dedication. Forever Foster Families provide high quality care to their beloved senior to ensure they live out their days with comfort and companionship. Agape ensures that Forever Foster Families receive support in every way possible, never worrying about the cost of their pups' care so they can focus on providing a loving environment and enjoying the company of their sweet senior.
This September, join Agape in celebrating Super Seniors and help raise $4,000 for the Forever Foster Program. We'll kick off the month with a Labor Day Curbside Cookout at Agape's HQ at 902 Hart Lane (Nashville Tail Blazers Canine Enrichment Center), Nashville, TN 37217. Enjoy a socially distanced cookout from your car, where you can meet some of our seniors. We'll have burgers, hotdogs (veggie options available!), and pup cups for our furry friends!
Meal kits are only $5 and include a drink and chips. Add a pup cup of whipped cream of only $1!
Additionally, each Sunday in September, Agape will feature a Forever Foster Pup, and we will share stories and testimonials of Forever Fosters who have enjoyed the benefits of opening up their home and heart to a grey-muzzled pup. Help us reach our goal of $4,000 during Super Senior September, and support the care of dogs in Agape's Forever Forever Program!
Interested in being a sponsor? Check out our sponsorship opportunities or email our Development Director.