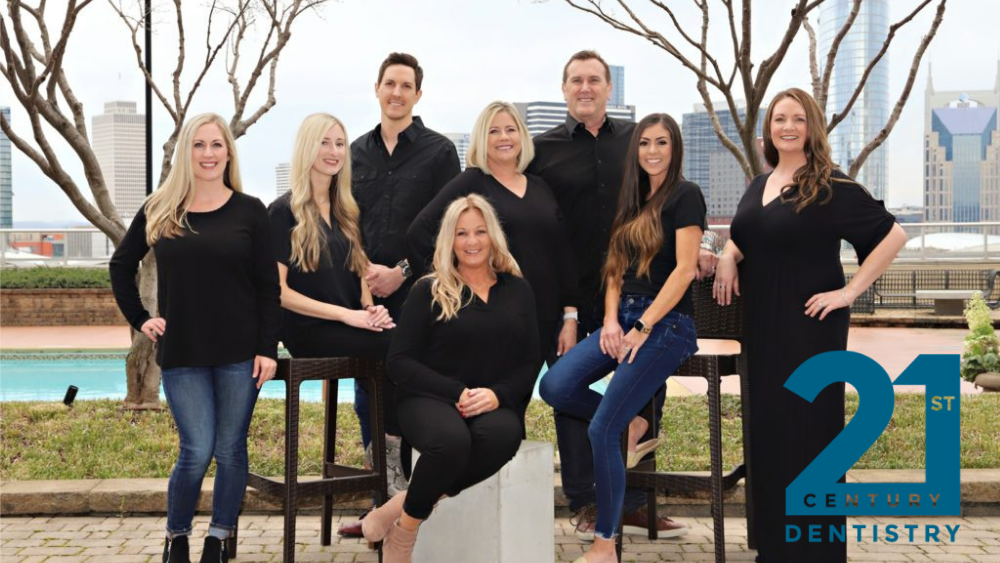 Get to Know New Agape Sponsor – 21st Century Dentistry
When Derek Thompson, DMD of 21st Century Dentistry says that he personally and professionally supports his community, he means it! We are excited to announce that Derek and his crew have teamed up to support the Agape Animal Rescue & Training Center pups as our February sponsor of the month!
Derek has crafted an innovative way to allow patients to support their favorite charity right from the exam chair. It's simple, you are given a stack of cards to choose from, whatever dollar amount is on that card will be donated to the charity you pick from Derek's "favorite" list. We are honored that the pups are on this list!
Why is local community involvement so important to Derek and his team?
Let's dive in to find out more:
1- Why do you feel it is important for your practice to support charities in Nashville?
I have to give a lot of credit to my parents for instilling the desire to support charities, and that is something I have tried to do in some capacity my entire adulthood. Now that I am a small business owner in Nashville, I feel an even greater connection to my local community, and that is where I want all of my charitable efforts to have an impact. I think that national charities play an important role in many causes, but I have made the decision to support the great organizations that are donating their time and efforts into making Nashville and its surrounding communities better. I am so thankful for the amazing patients we get to take care of and that support our dental practice, so I feel like returning the favor to my community is important.
2- I hear you have an adorable pup of your own. Tell us more!  
Koko is a Coton de Tulear and turned 8 years old on Halloween last year. We got him from a lady in Little Rock, Arkansas when he was just a couple of months old. His name comes from the Spanish translation of coconut except the 'c's are replaced with 'k's to be a little different. My wife is originally from El Salvador and grew up eating coconuts, so that combined with the fact that Cotons are known for their bright white hair made for a good choice. He is very loving and energetic, and he has just as much energy now as he did when he was a puppy. One of his favorite things to do is make you chase him around the house with one of his toys in his mouth.
3- What sets your practice apart from others around town, aside from your community driving team?
We are a family dental practice and provide a wide range of services including preventive dentistry, smile makeovers, dental implants, and Invisalign. Our mission is to provide such positive and personalized dental experiences that every patient we see would happily recommend us to their family and friends. We focus on educating our patients about their oral health and how we can work together to establish and maintain their personal best. We offer a great in-house savings plan,  Lifetime Smile Dental Plan, for patients without insurance that costs less than $1 a day! We also offer a free second opinion consultation for anyone unsure about proposed treatment that would like us to help them make the best decision for their oral health.
We are excited to welcome the 21st Century Dentistry team to the Agape family!