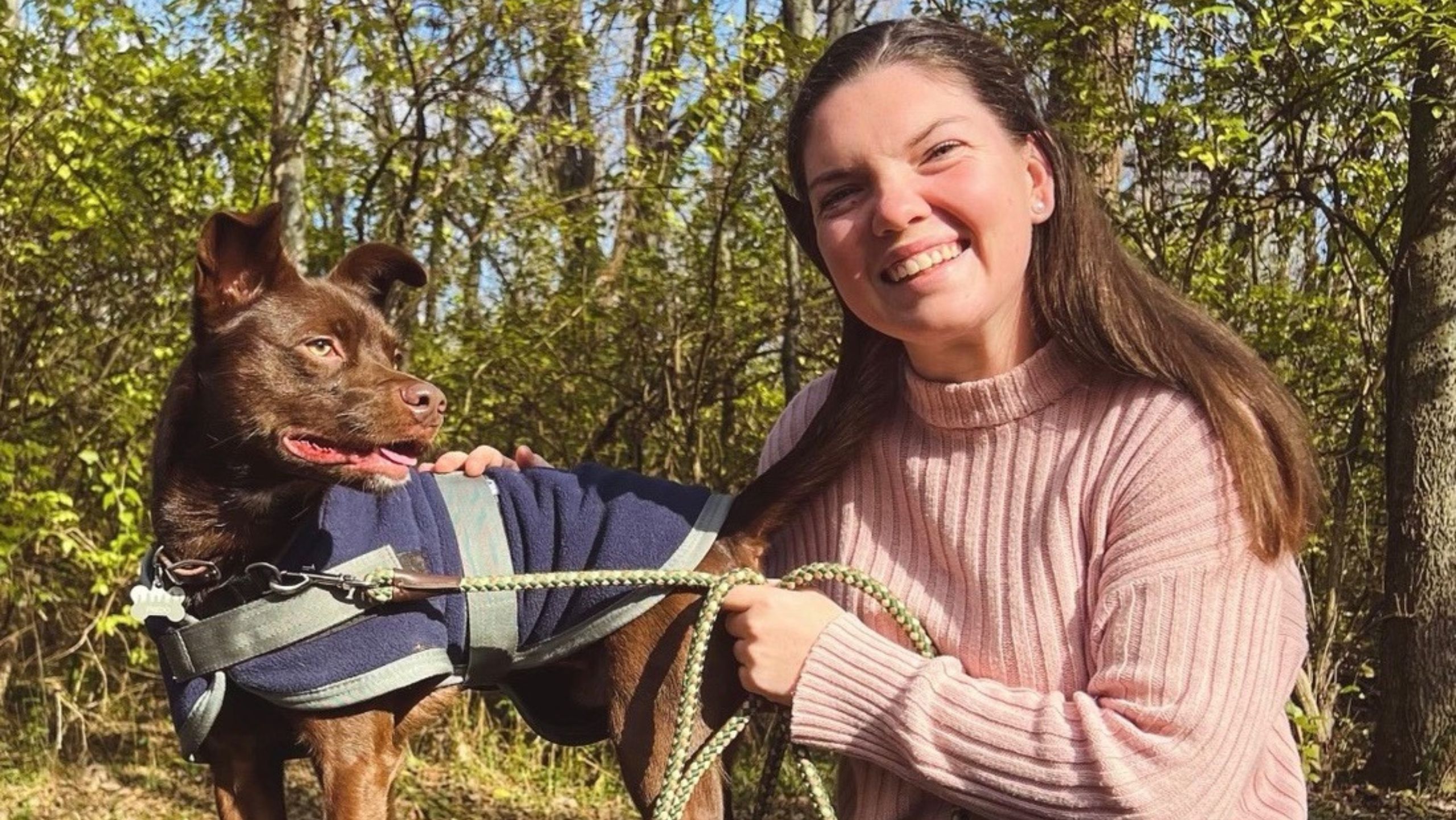 December's Fabulous Foster Spotlight
Meet Morgan Plosica, our December Spotlight foster parent extraordinaire! Morgan is a first-time foster mom for Agape, and she has done a remarkable job with her foster pup Fredo.  Morgan, we salute you for your outstanding efforts to make such a difference in Fredo's life!
Morgan hadn't thought about fostering until her friend Ali gave her the inspiration. "I had not thought of the idea until she mentioned it to me, and after that conversation, I went right to social media to learn more about how the Agape foster program works," she says.  Morgan's work situation is unique in that she already met her foster dog Fredo at her job as an Assistant Boarding Manager at My Second Home Pet Resort in Franklin, where sometimes our foster dogs board until foster homes becomes available.   
 "After meeting Fredo at My Second Home, it took us a while to get to know one another," Morgan says.  "I had known of him, but wasn't familiar with his situation other than that he was with Agape.  After meeting him, my mind was opened to a new opportunity.  I started spending more time with him in the kennel and I saw how much love he wanted to give. I will never forget the time we gave him his first bed; it was a large bed, bigger than him, and it warmed my heart when in just a few minutes, he was fast asleep, happy as can be."
She began fostering Fredo in October 2022, and what she's learned is how rewarding fostering is, and the positive impact it's had on both her and her foster dog. "Fostering has really opened my eyes to a world that I was so curious about, it has really made me more aware of how much it impacts the dog, and it has added some extra happiness into my life."
Fredo has most certainly become a much more adoptable dog under Morgan's care.  She has helped him adapt to living in a quiet home setting, and he's done it so well, she says. "He has his place on the couch as well as in my bed with me. I must be honest, he is doing well with me, but with his energy level he deserves a large fenced in back yard to run around in. I take him to the park to run and to get all his energy out."  Fredo gets to be with Morgan at home and at work, going to "the office" with her where he gets to stay in doggie day care each day she works.  He's a lucky boy to have his foster mom around 24/7! Not only has she continued to teach him new cues to give him great manners, inside and outside, she's proud to say he's 100% house trained and his barking has lessened as he's become a calmer, happier boy.  "I think he deserves a family willing to put in the training he loves, since he is really smart and picks up new things so quickly!" she says.
Morgan has also seen the difference fostering Fredo has made in her life.  "It has definitely changed my life for the better.  "I had been struggling with my mental health with a change in work, and being so far from family since moving to Tennessee last December. But since bringing him into my home he has encouraged me to get out and enjoy nature with our trips to the park, which is what I love doing."  Additionally, she has been able to tap into her love of photography, and Fredo has been a willing subject. His floppy ears are the best contribution to the cutest pictures, she says.  "He loves to smile for the camera! I try to capture all of his cuteness in the photos I take."  And Morgan sends those cute photos to Agape so they can be posted to help find Fredo a forever home.
While Fredo awaits his forever family to find him, he and Morgan will continue doing all the things they enjoy most: going for car rides, taking trips to Starbucks for pup cups, visiting canine and equine friends at the barn and going to "work" together everyday.  "I do think that Fredo's favorite place to visit is Maury County Park, where he loves running around and sniffing every blade of grass," Morgan says. "I enjoy the amount of love that Fredo gives to everyone … he also shares the best snuggles in the morning. I believe that his future forever family will love his love for the game of Fetch, a run in the park, as well as his snuggles on the couch on a rainy day."
"It really has been so much fun fostering Fredo, and I am happy that I went with my gut and reached out to Agape about the foster program," says Morgan.  "I won't deny the fact that I will be sad when Fredo finds his forever family, but I'm also happy to know that I gave him the best life outside of a shelter.  I would advise anyone looking to foster to look at it as an opportunity to save a rescue dog and to give him the best life possible.  And to spoil him if you can."
Thank you, Morgan, for all you do for your foster dog.  We appreciate you!