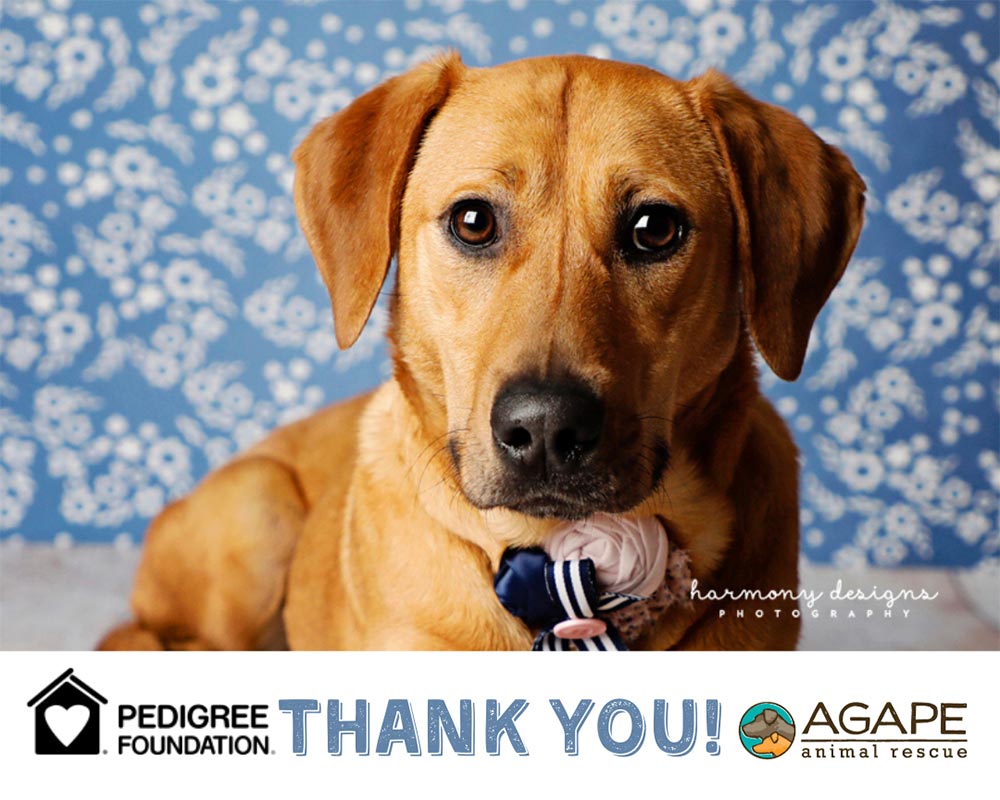 Agape Receives Grant For Tornado Relief Efforts
Nashville, Tenn. (March 17, 2020), Agape Animal Rescue is the grateful recipient of an emergency grant of $4,000 from The Pedigree Foundation to support its Tornado Relief efforts following the deadly tornado outbreak in Middle Tennessee in the early hours of Tuesday, March 3rd, 2020. One EF3 tornado traveled more than 60 miles through Davidson and Wilson counties, causing mass destruction and even a loss of life. In Putnam County, an EF4 Tornado, caused total destruction to the town of Cookeville, causing multiple fatalities. The affected areas went without power and infrastructure for over a week, and the community came together to assist.
Agape Animal Rescue immediately responded to the situation by conducting critical outreach to partner organizations (Metro Animal Control, Friends of MACC, Nashville Humane, Pet Community Center, Crossroads Campus) to assess the need, and were made a designated organization by the Office of Emergency Management and the Mayor's Office in response to the disaster. We are organizing the distribution of food and supplies to pet owners and partner organizations who are in need also. Crossroads Campus experienced severe damage to their building, and Agape was able to assist with the immediate boarding and care of two of their adoptable dogs.
In partnership with Nashville Tail Blazers, with whom Agape shares operating space, Agape was able to offer temporary daycare/boarding to any pet owner affected or displaced by the disaster. Agape conducted proactive outreach to apartment complexes who have evacuated residents and their pets due to severe damage, loss of power, or gas leaks, to let them know they were able to assist with the care of their dogs while they navigate life after the tornado.
Agape anticipates the needs of shelters in affected areas to continue to increase, as homeowners filing insurance claims are put into longer-term housing solutions and are unable to take their pets with them. Agape has worked tirelessly to recruit new fosters to meet this need, with the goal of reuniting families with their pets as they are able, or finding new homes for pets as needed.
Tanya Willis, Executive Director, says "Our team is incredibly grateful to The Pedigree Foundation for supporting our critical efforts as we continue to navigate life after the tornado with the residents of Middle Tennessee. Although we had many supplies on hand ready, they have now been diverted from our regular programs to help families in need. Thanks to The Pedigree Foundation's support, we are able to replenish all of these supplies, cover all of the additional travel and mileage incurred from meeting and training new foster families, and ensure all dogs brought into the program as a result of the disaster are well cared for."
---
Agape Animal Rescue and Training Center is a 501(c)(3) non-profit organization founded in 2004 that is dedicated to finding and supporting forever families through dog training, owner education, community outreach, and foster/adoption programs, ensuring healthy and happy homes for people and their pets.
About PEDIGREE Foundation. We believe every dog deserves a loving, forever home. PEDIGREE Foundation is an independent 501(c)(3) non-profit organization working to help end pet homelessness. Nearly 3.5 million dogs end up in shelters and rescues every year, and nearly half never find a home. The foundation was established in 2008 by Mars Petcare, maker of PEDIGREE® food for dogs, to help increase dog adoption rates. We've awarded more than 5,500 grants and $8 million to U.S. shelters and rescues to help dogs in need. At PEDIGREE foundation, we're working toward a day when all dogs are safe, secure, cared for, fed well and loved. See how you can help: www.PEDIGREEfoundation.org.