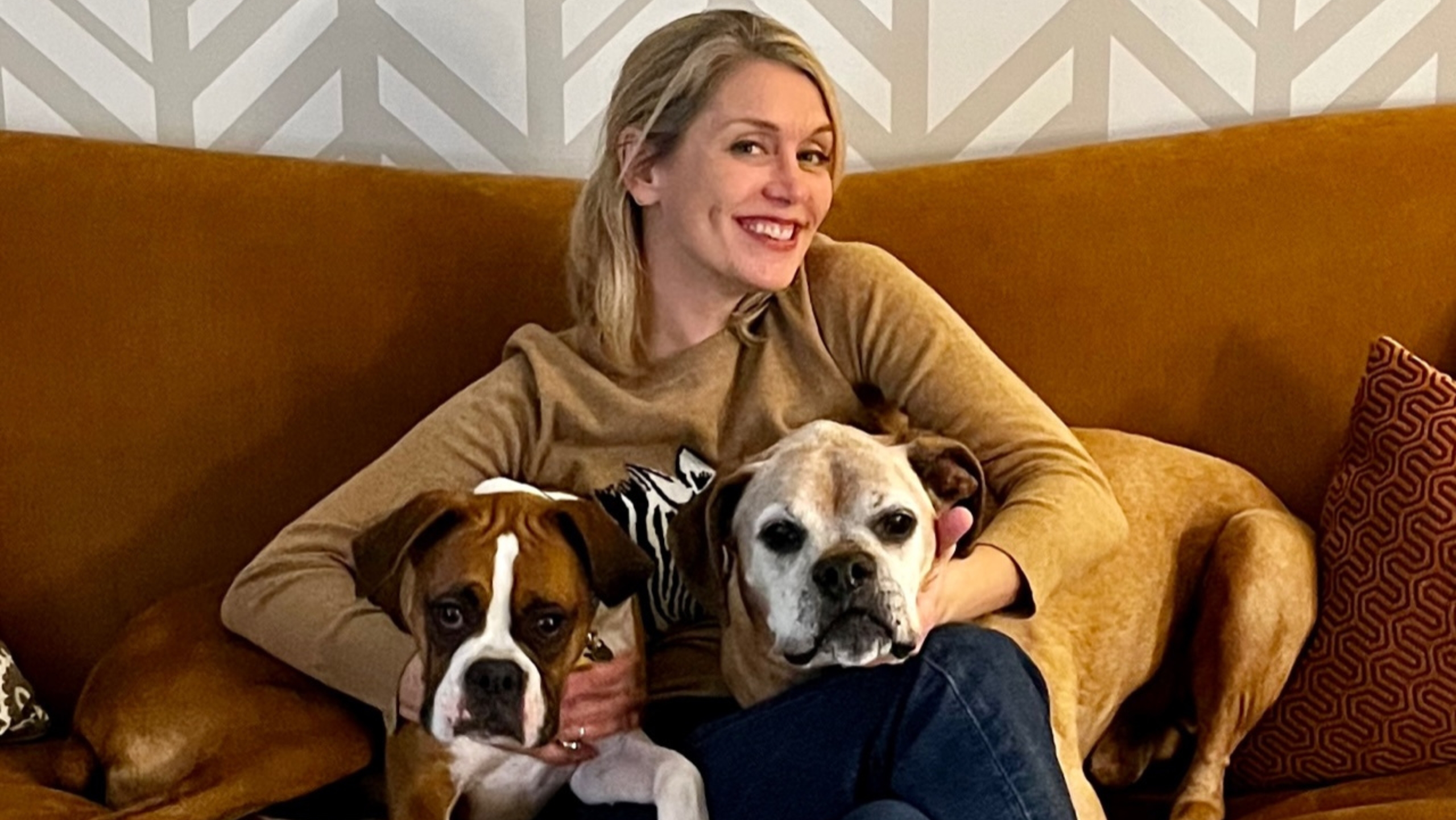 Lucie Rice: Agape's Designer Extraordinaire
Lucie Rice is an award winning illustrator and designer who has been doing graphic design work for Agape Animal Rescue & Training Center since 2009.  A lifelong animal lover, Lucie says she has been drawing "characters and creatures" since before she could walk, beginning with endless pictures and paintings of the beloved family dog. Now, as an adult, her passion has become her profession, and she loves creating work for clients as well as working on personal projects related to animals, nature and social justice.  Lucie's work at Lucie Rice Illustration and Design can be seen nationally in magazines, ad campaigns, books and murals. Her clients include Purina, the Grand Ole Opry, Penguin Books, Simon and Schuster, the New York Times, and the Tennessee State Museum. She is a graduate of the Savannah College of Art and Design.
Lucie's relationship with Agape began with a chance meeting of two staff members 14 years ago. "I met (Executive Director) Tanya Willis and (Adoption Facilitator) Gayle Kerr at a rescue event soon after moving to Nashville. I was looking to volunteer my talents for a local cause I was passionate about," she says.  "Agape (and the big-hearted people behind it) fit the bill perfectly. I believe the first project I did was to create a brochure and update the logo."
Lucky for Agape, she has continued to send us amazing design work for many projects and campaigns … always beautiful, unique, and simply brilliant. "Agape has been wonderfully supportive of me going rogue on a number of projects," says Lucie. "Tanya often just has me 'work my magic,' meaning I am given creative control and get to have all kinds of fun on each assignment!"  Over the years, Lucie says two projects she has particularly enjoyed working on were the event materials for Agape's Glitter and Glam and Animal Ball annual fundraisers.
A great example of Lucie "working her magic" is the recent "Be a Lifesaver" campaign she created for Agape's foster parents. The finished pieces are incredible and once again, we are in awe of her talent.  We look forward to utilizing the impressive campaign kits and yard signs that Lucie created to grow our foster team … and save more dogs' lives! If you would like to "Be a Lifesaver" and save a dog's life through fostering, click here.
Home for Lucie these days is Carmel, IN, where she moved with her husband, Kurt, and two boxers, Hank and Pearl, during the pandemic to be closer to family. "It was a very hard decision," Lucie explains, "as we happily called Nashville home for nearly 15 years. My husband (and the pup team) joined me to help grow the business. He is helping with all things business-y, freeing me up to be creative more of the time. We are selling lots of goods direct to consumer (prints, greeting cards, tees, home decor, etc)  and reaching out to retailers as well.  You can see all kinds of goodies here!
A very special part of Lucie's life are her pups, Hank and Pearl. It just so happens that Hank is an Agape alum, adopted by Lucie in 2012 as a 4-month old puppy. "Oh my Hank!" Lucie exclaims.  "I love him with every ounce of my being! Yes, we fell in love with that beautiful mug on Agape's Facebook page and life was forever changed. He is 11.5 years old and while his face has a lot more gray, he is still the same wild man that stole my heart. Pearl is our newest addition and they are two peas in a pod. They each have their own beds but prefer to cuddle every night together on one. They make every day better and brighter."
Of the many commercial projects Lucie is proud of, the Tennessee State Museum children's wing being by far the biggest and most exciting to date, a personal endeavor near and dear to her heart (and ours) is Humble Hank, a children's book she debuted in August 2022 about her beloved boxer Hank. "I've always felt that Hank is truly convinced he is human and my husband and I jokingly created a voice for him soon after we brought him home," she says.  "He has been 'narrating' our lives ever since, so it made complete sense to have him be the voice of this book. Hank has brought so much joy and laughter to our family and I thought children (and their parents) would gain from getting to know our boy."  We agree with Lucie that anyone who loves dogs and has a sense of humor will enjoy Humble Hank!  You can order one here!
Agape Animal Rescue & Training Center is sincerely grateful for all the amazing work Lucie has done for our rescue over the years.  Thank you, Lucie, on behalf of all of dogs' lives you have helped us save!. We could not have done it without you.  We are blessed to know you and to work with you! You are truly an extraordinary volunteer, adopter and friend to Agape.