April has always had a special relationship with animals. As a child she would bring home lost dogs and injured birds constantly. It was no surprise that as soon as she was old enough, she got a job at a vet clinic where her love and appreciation for animals – and the people who helped them – grew into a passion. April helped a shy little terrier, Annie, become a playful, cuddly and trusting dog. Annie was her first adoption and April committed to always adopting her dogs.
April's doggie family members have all come from Agape. Indigo "Indy" (Boxer/Mountain dog mix) was April's first foster "fail" and soon after, Truffle (French bulldog and puppy mill rescue), became members of the family. They were followed by Pixel and Fable, her Dachshunds, who have become April's little "studio assistants" and inspired the Harmony Designs Photography logo. They both melted April's heart during their Agape puppy photo shoots in her studio. They were all recently joined by new foster "fail" doggie sister, Rumor!
As a big believer in volunteer work, April has partnered closely with Agape Animal Rescue for over 14 years by offerings several annual fundraising events through Harmony Designs Photography to benefit the rescue. In addition to the fundraising events, April works to capture the personality and spirit of all new adoptable dogs through photography sessions. Her professional photography, in coordination with the tireless efforts of the Agape staff, has dramatically increased the placement of dogs in their forever homes.
As Agape's Operations Manager, April considers it a privilege to be able to blend her passion for rescuing dogs with her professional art photography as she works alongside amazing volunteers, loving foster families, and dedicated Agape staff.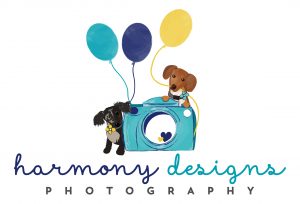 Harmony Designs Photography