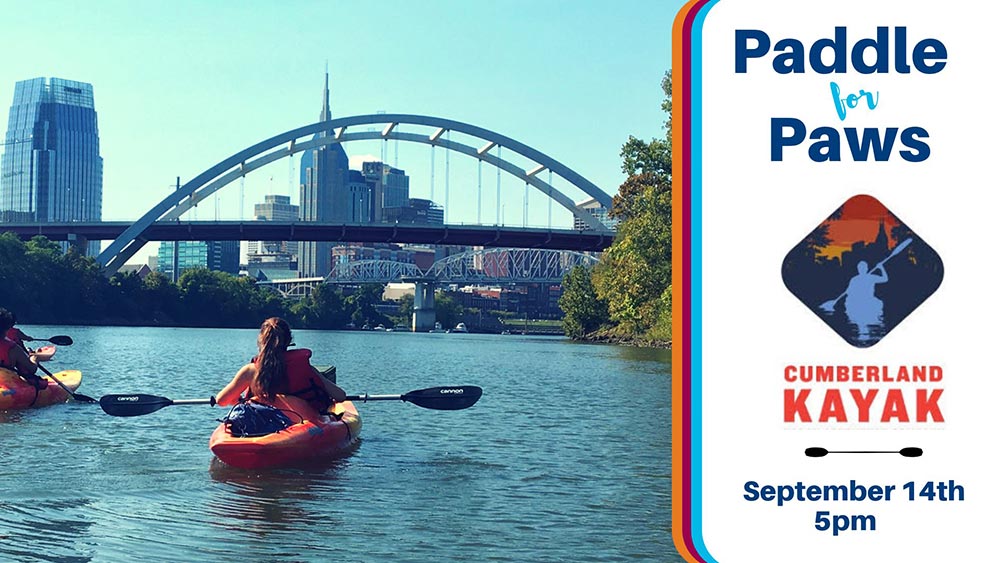 Cumberland Kayak – Paddle For Paws
There is nothing quite like a relaxing paddle down the Cumberland River enjoying the spectacular views of the Nashville Skyline all while providing love and support to Agape Animal Rescue's favorite four-legged friends! Cumberland Kayak is hosting – Paddle for Paws – Saturday, September 14th starting at 5pm to benefit the dogs of Agape!
Cumberland Kayak is not only committed to environmental sustainability, but also to helping local non-profits continue their good work through the 2% For A Better World initiative. "Here at Cumberland Kayak one mission we are passionate about is animal rescue! Cumberland Kayak, as well as those who sign up for this paddle are able to show their love and support for animal rescue. We agree and stand by Agape's mission to find homes for abandoned and displaced dogs while educating people on the importance on being more responsible pet owners," expresses Jenny Chung – Cumberland Kayak Booking Coordinator.
Cumberland Kayak provides everything you need to "paddle for paws" on the picturesque Cumberland River. Your adventure starts with blue herons, turtles, and kingfishers greeting you as you paddle under Nashville's scenic bridges opening up to the unhindered views and sounds of the downtown skyline!
Register today by clicking here: http://www.cumberlandkayakadventure.com/betterworld
Agape can't wait to experience this one of a kind evening in Music City with you!
*single and tandem kayaks are available
*dogs with water/kayaking experience are welcomed to join